I have a fascination for Savoie, being it Savoie or Haut-Savoie. And you'll have to excuse me for using the original name for the regions, and not the English Savoy. It's a wonderful area, that's so, but more important, there is an array of excellent cheeses hailing from this area. And, would you believe, some excellent wines pairing well with the region's cheeses. I have to admit, albeit unwillingly, that I have hardly been to the region. Well, I've been to Annecy and I have even played golf at the local golf course. That was sort of a roller coaster tour with a magnificent view of the Lac d'Annecy. Well, I've given up golf altogether. I've been swimming in the lac as well and spent a very peaceful 14th of July there eating crêpes. Way before my intense interest in cheese.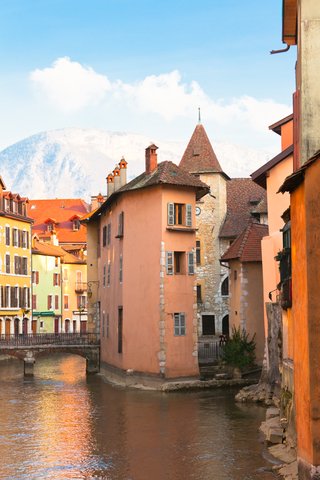 Annecy is an old city beautifully aligned by the shores of Lac d'Annecy. It is the capital of Haut-Savoie. A short trip from Genève, it's about 30 kilometers. Breathtaking views from old bridges crossing deep and narrow valleys. About 50 000 people living there. A lot of tourists, especially during the summer time, but a good base for sight-seeing the area. During wintertime most people want to stay higher up in the mountain ranges in the not so picturesque alpine villages. A lot of good food in the whole area, by the way.





Many cheeses from Savoie
Well, today it's all about just one of them. A gem I learned about from a local cheesemonger here in Oslo. A rarity in the sense that it's only one dairy making it. In a small village in, yes, Savoie. The village of Trevignin is the venue. By the foot of the Revard mountain in the Bauges range. If you turn your back towards the Bauges mountain range you'll see even more mountains across the Lac du Bourget. Quite a big lake. Since I mentioned Annecy above; takes about 35 minutes to get here by car from Annecy. Direction south, or south west if you are very punctilious. Actually not far from Lyon either. Straight east.
Broad history
There is a lot of old cheeses in Savoie, i.e. cheeses with a history, because this is an area with a rich history. A principality stretching from Valence to Genève and into Italy and even had control over Sicily and Sardinia, not at the same time, though. But now very much part of France. Our cheese however, Moelleux du Revard, cannot boast this honorable past even though it has old ancestors. Created in 2008 by the Schmidhauser family who has one maturing room and three dairies in Savoie. The cheese is based on the recipe of a cheese called Vacherin des Bauges. Hardly made any more. For reasons unknown to me, they had to cease calling it Vacherin des Bauges. Possibly because of a potential mix-up with Tome des Bauges AOP. The small production of Vacherin des Bauges already in place, did not represent any possible confusion, the Schmidhausers entering the scene would, however, increase the volume and presence. Not only is this Vacherin des Bauges only made by one or two farm diaries and one dairy, it is only made for a short period during the autumn, after the first frost has arrived. So when the Schmidhauser family wanted to make this cheese probably all year round, that was a different matter. By the way, the Schmidhausers first started as affineurs, and have then branched out into making cheese as well.
A rare cheese visiting our shores here up north, all the better when it happens. I think the cheese assortment is somewhat limited here, with hardly any new varieties coming on the market. Could be just me having a need for variation.
What kind of cheese is it?
First, Moelleux du Revard is a cow's milk cheese. When it comes to the milk quality, the area and fodder and all these things, this cheese applies to the AOP rules of Tome des Bauges. But not necessarily how it is made. Furthermore different name and then, obviously enough, no protection. That's a choice.


Rind is washed. Then the cheese has a spruce band around its waistline, which you may trace when you taste the cheese. Texture is semi firm as said and gooey. Colour of paste is yellowish with scattered and uneven small holes. Taste is balanced and herbaceous and a little hint of barnyard. Smell is very moderate for this style of cheese. A very good cheese in my opinion.
To drink
Drink local wine. Savoie has many fine wines pairing well with this cheese. Nicolas Gonin is an interesting guy making good wines that will do well along this cheese. Both red and white actually. If you prefer something simpler, there are others, of course.