This has got to be the smallest deli in Oslo, even the smallest shop altogether. Above the entrance there is a sign telling GOD, which you may interpret the way you want, in Norwegian god means good. The explanation is however clearly outlined right beneath. There is something WYSIWYG over this shop. Or rather what you see is what there is. No backroom, no basement. A cooler, shelves, a work bench with some cupboards underneath and a sink. That's it.

About the intersection between Oslo gate and Schweigaards gate
That is sort of very local Oslo, but just in case you come visiting, which you should, of course. Oslo is on Lonely Planet's short list for cities to visit in 2018, and is included in an equivalent list in the New York Times. Just book your tickets. (If you want me to tell you about Norwegian cheese ans taste a few while you are here, just give me a holler.) You can find Gamle Oslo Delikatesse at Schweigaards gate 52 (gate means street, just so you know). Go there by foot, or ride the streetcar (not the one named desire) but a blue one. They're all blue by the way. You may go there by car as well, no problem, but it might be hard to find somewhere to put your car while shopping. Not far away from Oslo's central station, a five minutes' walk. And the owner, Marius he is called, is a very pleasant guy. A sound technician in his other life as far as I know, but obviously with a passion for all good and edible. Well not all, the space is limited.
With this limited space he needs to be selective. But a fine selection of Norwegian and foreign farmstead cheeses, Italian and Norwegian salami, and on the shelves; some fine foods being it dry or canned.
I bought a fine Norwegian artisanal made salami upon his recommendation. I usually only buy Italian, but followed his advice, and have not regretted the choice. But if you insist he has a few varieties of the Italian originals as well. Very tasteful by the way, the one I bought.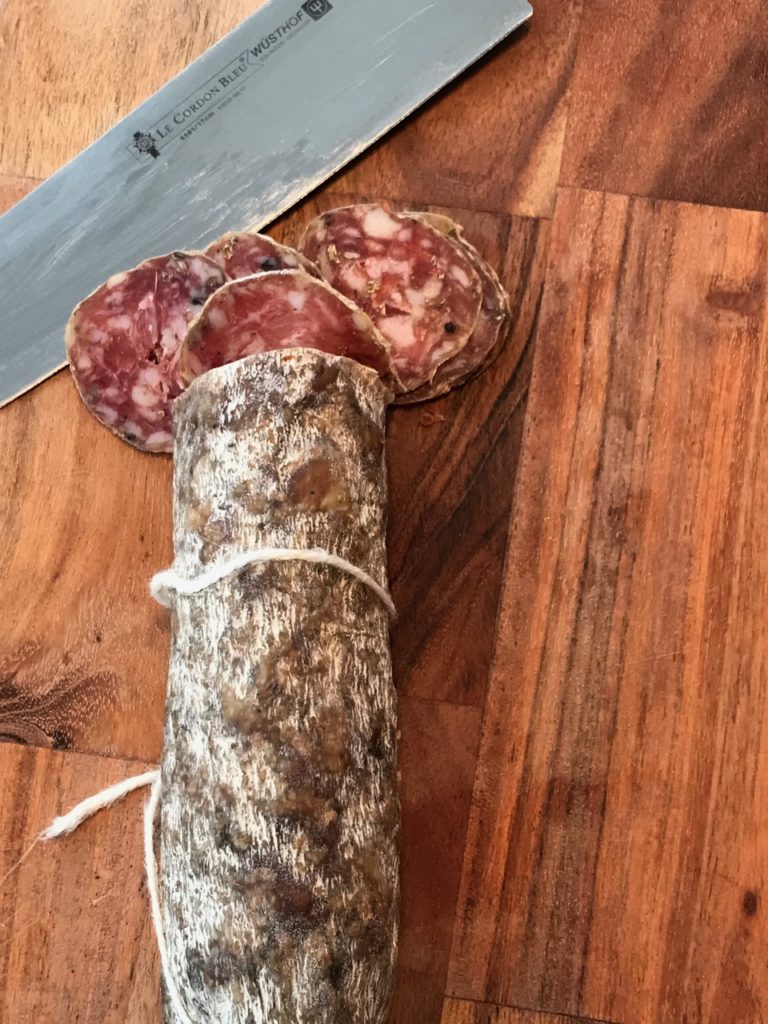 I came there for a chèvre
But as it is, it was a cheese that caused my small detour. A chèvre from the Loire valley I had never heard of before. The maker yes, but not this particular cheese. That makes me curious. A wheel this, of about a kilo. Very creamy and somewhat sweet on the palate. The conclusion is when it comes to chèvre from the Loire valley, the small ones are the best. Quite a different thing with a small cheese called Rouelle that I also found there and thought I had never tasted before. From the dairy Le Pic in Tarn, Occitanie. Which of course was wrong. I have obviously reached a stage where I cannot remember all the cheeses I have tasted. This one was last tasted in Saumur, the Loire. Looks like a donut, but the hole was covered by a label. That's probably the reason.