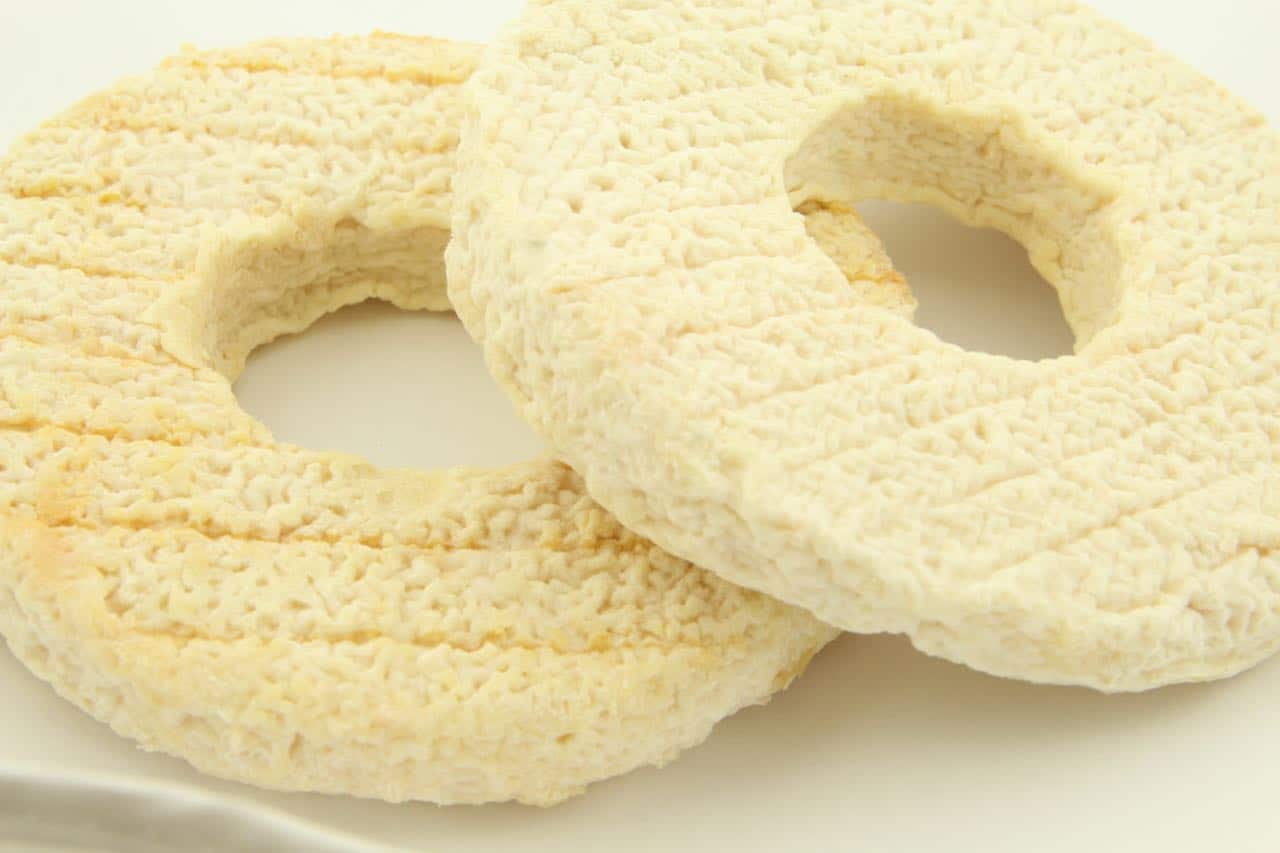 For my part, I think it comes a lot of good from Beaujolais. Most famous are probably the wines and I definitely have a taste for them, even if I stay away from Beaujolais Nouveau. The hysterical times are over. But it was fun. Recently, however, I have had the pleasure of becoming acquainted with chèvre from Beaujolais. So if most beaujolais wines, but not all of them, are light and fruity, then in return they are chèvres from the region that has come my way, not at all. On the contrary. Quite striking. Even though the first cheese I got was so rammed that all the hair on me stood straight out, and I have tasted a little of each, it went in return to the affineur, and a new supply was sent. Milder and in good condition, but with a clear and distinct message that there is character.
Galette du Beaujolais
It was called Galette du Beaujolais, shaped like a flat donut. With slight mold growth, otherwise a little Geotrichum that will rule the ground. It stagnates mold growth and forms such a fine rough surface. Pretty big for chèvre to be. From the southwest in Beaujolais, right on the border of the Loire. Now it should be said that the Loire as an administrative area is much larger than what most of us think of with the Loire Valley. This cheese appears to be a heavyweight in a positive sense. It has fullness and power, is in good balance and gives a marked, but good mouthful of chèvre. Pretty firm in consistency, but just to make it clear, it's a creamy goat cheese.
St Gamay
Do not know who came first, the grape or the cheese, does not matter, but suspects that it was the grape. However, the cheese appears to be sacred, since it has been named St. Gamay. From a small area called Claveisolles, and it is not a metropolis, on the contrary with its around 650 inhabitants. If the first described cheese is large and strong, this is a fairly small power plug with its modest 25 grams. What it does not have in size, it makes up for in radiance, so to speak. Small minipuck this here. Some mold, some milk fungus, some hair and rashes of blue mold. This is what makes one on the last course, (about chèvre) not dare to eat it. Cheese is milk, salt, mushrooms and bacteria. If you think it's scary, then there are other things to be interested in. But of course, sometimes both the fungus and the bacteria, perhaps mostly the fungus, become visible. It is in the spinal cord of us that it is not good. Then I wonder why so many people like blue cheese. That said, it's a blue cheese from the area called Persille du Beaujolais. It is made from pasteurized cow's milk so it does not fit in here.

They should now have the French, they are not easily intimidated. And if you want to learn a little about the mood of the people of Beaujolais, then you must read an old satirical novel called A House of Wrath by Gabriel Chevallier.
To drink to
Drink locally. Although some people think that ripened chèvre can be enjoyed with a fruity red wine, I prefer the white one. Maybe Brown Beaujolais Chardonnay Classic 2020, could be something? I must admit that I have not tasted it so the recommendation is made on the basis of the description.