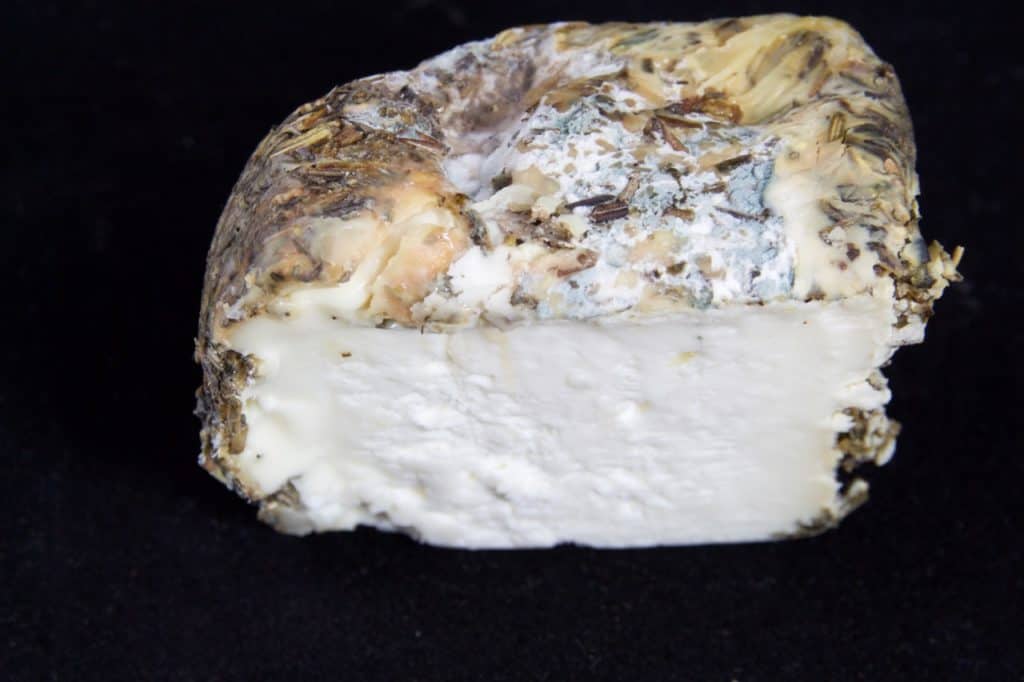 There is this beautiful French island Corsica south-east of Nice and south of Genova with a lot of cheese of which my absolute favourite is Brin d'Amour. A ewe's milk cheese covered with dried local herbs. Creamy when young and firmer with some age. The paste is so beautifully white while the rind can appear anything from rather boring grey to rather colourful. A small scale, farm made raw milk cheese of course. But mind you, it has a pasteurised, more industrial cousin called Fleur de Maquis.
Brin d'Amour – A breath of Love
Yeah, that's what it means. A breath of love, isn't that beautiful? And a beauty it is. The name actually refers to the aromatic coating of rosemary, fennel seeds, thyme and juniper berries applied during production to enhance the natural flavours of the island, and it pairs very well with the milk which also brings along flavours from the vegetation the sheep feed on. That's called maquis which is a Mediterranean plant community of evergreen shrubs and small trees. The maquis is a dense, often almost impenetrable thicket of 1.5–5 m tall shrubs with stiff, jagged branches and small dark green, leathery leaves (Wikipedia). With those fodder challenges the milk and eventually cheese has to be good. Taste is fresh with a good amount of acidity, more the younger the cheese, but might become more challenging with age. You might also find some barnyard notes on the palate. Usually matured for a month, but you can find both younger and older variants. I must admit I am not all that happy with flavoured cheese, being it truffle or kelp or whatever some choose to flavour their cheese with. I prefer the real taste of the cheese. But Brin d'Amour is an exception. I love it.
The rind
A few words about the rind. Can or should you eat it? Yes you can eat it, especially when the cheese is young. The older it gets the drier the herbs and not all think it's a good idea to have their mouth filled with sharp needles, because that's what it will feel like. But, if you're tougher than the rest, go for it. It will add an extra herby tang to the cheese.
To drink with Brin d'Amour
Not so sure about the white wine here, well it always works, I would say. But a local red would also work just fine. And they do make good rosés, so it really depends on your mood. Corsica makes great wines but they are largely little known. The best come from Ajaccio and Patrimonio, but also look out for wines from the Vin de Corse Sartène, Figari and Porto Vecchio appellations. If you're there, I suppose anything will work. And as always, check it out with the locals, what do they prefer? Is just you, your cheese and some bread, or do you have some other food as well?
Going there?
I've never been there I must admit, but I love their cheese, and there are more than just the Brin d'Amour. They call their island «l'Ile de Beauté», and rightfully so. You can get there by air, and arrive at the Ajaccio Napoleon Bonaparte Airport across the bay from the city. You can arrive by boat, for instance fly to Nice and take one of the ferries from there, going to Bastia most of them, but there are other available ports. Once you're there you can rent a car or motorcycle, or you can choose public transport to get around the island. There is a lot to do and see, so make sure you check out Visit Corsica to get inspired. Perhaps wise to avoid the peak of summer, spring and autumn is probably better. Anyway, «winter» is very short in Corsica.