Midwinter, it's snowing lightly, but the forecast says up to 20 inches the next 24 hours or so. So I thought that requires something warm and energy boosting, like Aligot. Aligot is simply melted cheese and mashed potatoes with some garlic and double cream or creme fraîche. That's it! This is a dish that comes from the Auvergne region in the south of France. Le Massif Central if you like;
Aveyron, Cantal and Lozère. Well known areas for cheese all of them. Quite a lot further south than where I reside, but winters can still be cold, so that requires warming foods. This is not a dish as such, more like a side. So ususally served with a piece of good meat, or perhaps even more common, a country sausage of some sort.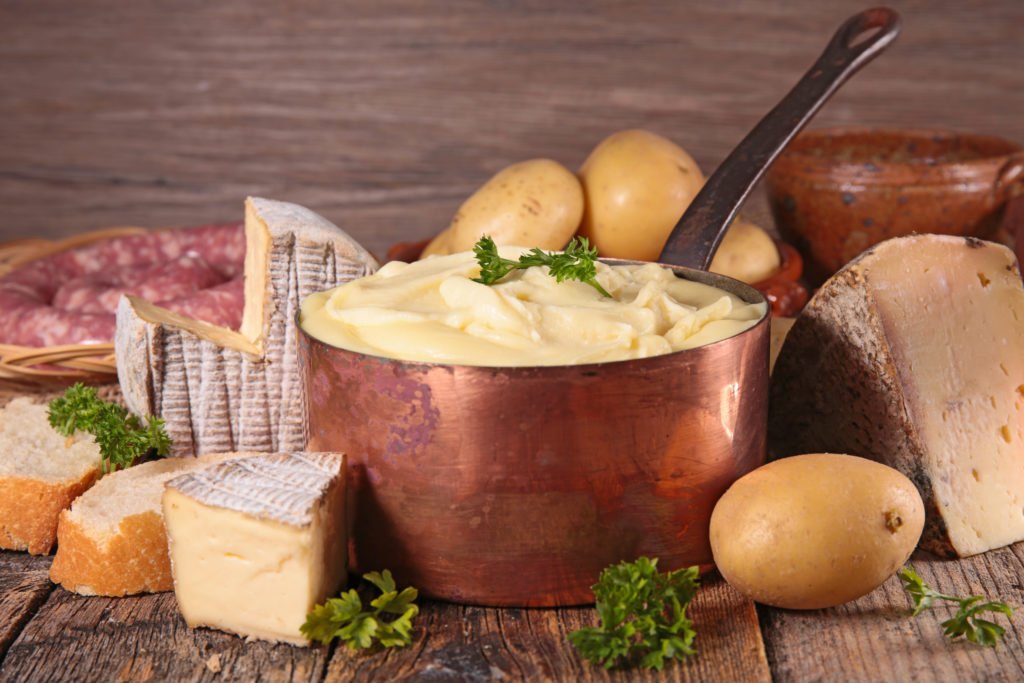 Even though the dish hails from the Auvergne, it is pretty common all over France these days, much because of the so called Bougnats. Immigrants to Paris from Auvergne, making a living by carrying water, selling coal etc. Later they more or less left Paris and spread all over the country, bringing the Aligot dish along, of course.
What kind of cheese is used for the Aligot?
Obviously a firm cheese melting easily as the dish resembles both fondue and tartiflette, to mention two. These days most people probably use an Alpine style cheese or one or more of the excellent varieties from the Auvergne like Cantal, Salers or Laguiole. And these are the cheeses that were used for this cheese originally. But not like most of us know them. These cheeses also comes in a style called Tomme fraîche or sometimes Tomme Aligot since it is by and large the sole usage of this type of cheese. And what's so special with this style? They are made the same way as "ordinary" Cantal, Salers and Laguiole, but not salted and not matured. Tomme fraîche. We have the same style of cheese, usually from goat's milk, in some parts of Norway.

The potatoes
I am more concerned with the cheese than the potatoes, but if you have a favorite for making mashed potatoes, use that one. Otherwise use whatever is available.
Instructions?
Pretty easy, but peel the potatoes and cut in cubes before you boil them in lightly salted water together with a couple of garlic cloves. When the potatoes are done, remove most of the water and add cream or creme fraîche and mash it. Stir in grated cheese and work it until it has a silky texture. Should resemble cheese fondue. Voilà!
French recipes indicates one kilo of potatoes and half a kilo of cheese. Let that be some sort of guideline.
What else?
As already mentioned, some good meat or a country style sausage. Vegetables of your choice, Puy lentils or some lettuce.
To drink
Locally they will prefer a red wine from Auvergne which I assume is a rather light red. If you're looking for something more full bodied, look further south. Occitanie has a lot of healthy reds.
Enjoy!