You need a few cheeses for Easter, however you view it. In Norway we have a rather long Easter vacation, for some it has already started, while others wait til Wednesday afternoon. Based n the traffic, especially out of the cities, filled up trains and so on, you get the impression all of us head towards the mountains for some last desperate skiing before spring finally arrives. Fact is that most stay home; 90 per cent actually. It has been a long winter with lots of snow, March has been much colder than normal. We've had a few days with sun and mild weather lately, so some snow has melted away, but today is colder and it's snowing. This time of year, after all, they are minor setbacks.
Whether you are celebrating Easter or not, most have a few days off anyway, I want to recommend a few cheeses and a recipe praising spring.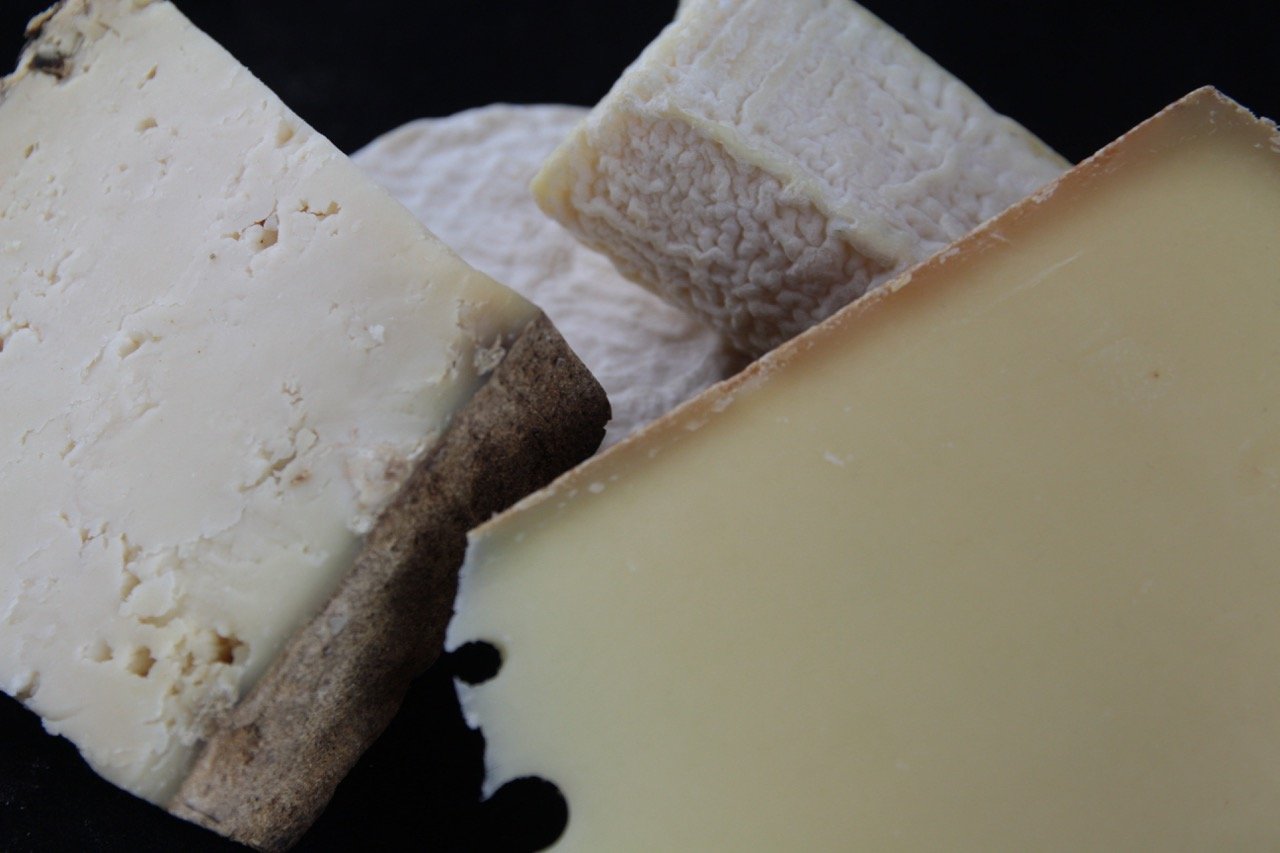 Cheeses for spring should be seasonal cheeses
At least to the extent it is possible. We'll start with a monastery cheese, not the typical washed rind style, though. Those are too heavy and chewy to praise the spring. No, it is a light ewe's milk cheese with a faint hint of thyme. Lingot St Nicolas de la Monastère, mostly shortened to Lingot St Nicolas. Made at a Greek orthodox monastery in the Hérault region of France. If you're somewhat familiar with French language you will know that lingot means bar, well like gold bar. I honestly do not know how big a gold bar is, but the Lingot St Nocolas is quite small. 80 grams, so you should take that into consideration when you're buying. It is brother Gabriel that is making the cheese, and just in case you wondered, the Greek orthodox Easter is a week after ours.
Being a Greek orthodox monastery with ewe's milk available I rather think they would make a Feta style cheese, but not so. This little gem is best enjoyed on your terrace in the afternoon sun with a glass of Sauvignon blanc, or if if you want to be local, try some Picpoul de Pinet.
Chèvre
For me the spring cheese above all is chèvre. If you happen to be in Norway I would recommend Fjelltopp, Mountain top, very symbolic of course, especially as the cheese is is formed like an ice hockey puck. It' s a very good cheese from Bo's ysteri and hour's journey outside Stavanger. He is a Dane turned Norwegian. Not the language though. This area is called Jæren and is famous for its beaches and flat landscape with a not so high mountain high-rise in the background. That's where Bo is making his farmstead cheeses. The dairy is a modest 14 square meters, so not much space available. he is also making a variety called Lille Aske with a Super Gold award from last year's World Cheese Awards in London. If you're not able to taste these two cheeses I would recommend one of two other favorites. French Valençay or the English Innes log or Innes brick if you want it a little bit fresher.
A somewhat cheaper alternative?
Going on vacation or not, you'll need a firm cheese a well. One of my favorites is the Beaufort from the Savoie in eastern France. you will not regret taking home a healthy piece of Beaufort d'Alpage Chalet. But this cheese is becoming increasingly expensive, so if you want an excellent cheese at a more modest price, try the Abondance. Same area, i.e. Savoie, starting to hit the lime light after having spent most of its life in the Beaufort shadow. Slightly sweet and nutty aroma. A very good cheese best eaten with some country bread and real farm butter.
With this latter cheese you can more or less drink anything you want. Too much oak and tannin excluded of course. But if you're not familiar with wine from the Savoie region i would recommend you try some. Gonin Isère Persan and the white Altesse Isère are both excellent choices.
And the fourth..?
Ricotta is not something I would spend time on in here. My source based in Napa, California suggested a recipe oozing of spring. Ricotta and asparagus. Now is the time for local asparagus. I try to keep asparagus seasonal and ignoring the ones from south America available during fall and winter. I'll send you direct to Janeet Fletcher and her Planet Cheese for the recipe. She is paying a lot of attention to finding good ricotta, there is a lot of industrial varieties out there and the asparagus deserves only the best. If you're already into a Sauvignon blanc, it will work just wonderful with this dish.


And finally, Happy Easter.