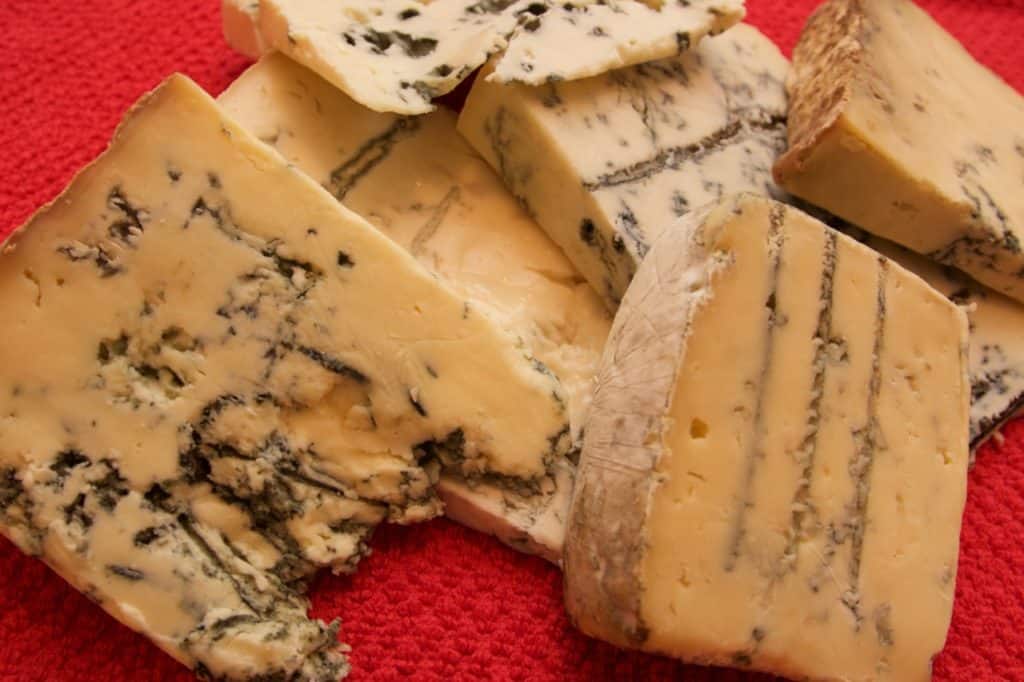 "It's the most wonderful time of the year.." the Christmas prelude, aka advent, filled with anticipation – and stress, and planning and a lot of other things like buying Christmas presents and blue cheese of course. Blue cheese and also Edamer for some of us. What's your favourite? I suppose you were singing those first few words above? Where I sit we've had a spell of very cold weather, then some snow which is now about 10 inch deep. Very christmasy. Well, this week-end we'll have the traditional mild weather, so all the snow will go away. Typical pre Christmas.
Blue Cheese for Christmas?
So why is the blue cheese and in particular Blue Stilton so popular for Christmas? I think, generally, is has something to with the time of year, it's winter in the northern hemisphere, we need something robust with fat and salt and lots of taste to protect us from the cold weather, the winter storms and the deep snow. Well perhaps not as dramatic as that, but still now is a rather cool and dark time of the year. Of course it adds to the pleasure or comfort if you like that this type of cheese pairs very well with sweet wines. Sugar – calories gives some sort of protection and comfort as well. When it comes to Blue Stilton there is another reasons as well, at least that's how the story goes. The second growth – grass that is – is particularly lush and juice. Good fooder for the cows making extra good milk. Taken the time of the year for the second growth, the time for making and maturing Blue Stilton, ready for the market in time for Christmas. Due to the quality of the grass and consequently the milk this Blue Stilton was extra good. How the particular pairing with Port came about, I do not know. However Port is a strong, sweet and warming wine also particularly good throughout the wintertime. The cheese is fat and salty, the wine is sweet and has a high alcohol content which work well with the fat and salt in the cheese. A Christmas tradition was perhaps born?
Anything else, really
Of course, whatever you fancy. I would like an Edamer style cheese, very common where I live. A Brie, very good with bread for your Christmas brunches. A few firm cheeses such as Beaufort, proper Cheddar or, if you can get hold of it, Salers Tradition. And what about a meaty Munster. Well you cab have them all or you should choose a few according to your liking. But as I said, the Christmas staple food is blue cheese. You can also select a local one. I will. In addition to Stilton and a piece of Stichelton I will have to local blue cheeses: Fønix from Stavanger ysteri on the south west coast of Norway and Råblå from Grindal ysteri in mid Norway. Two handcrafted cheeses very well made by artisan cheesemakers. Both made of organic raw cows' milk.