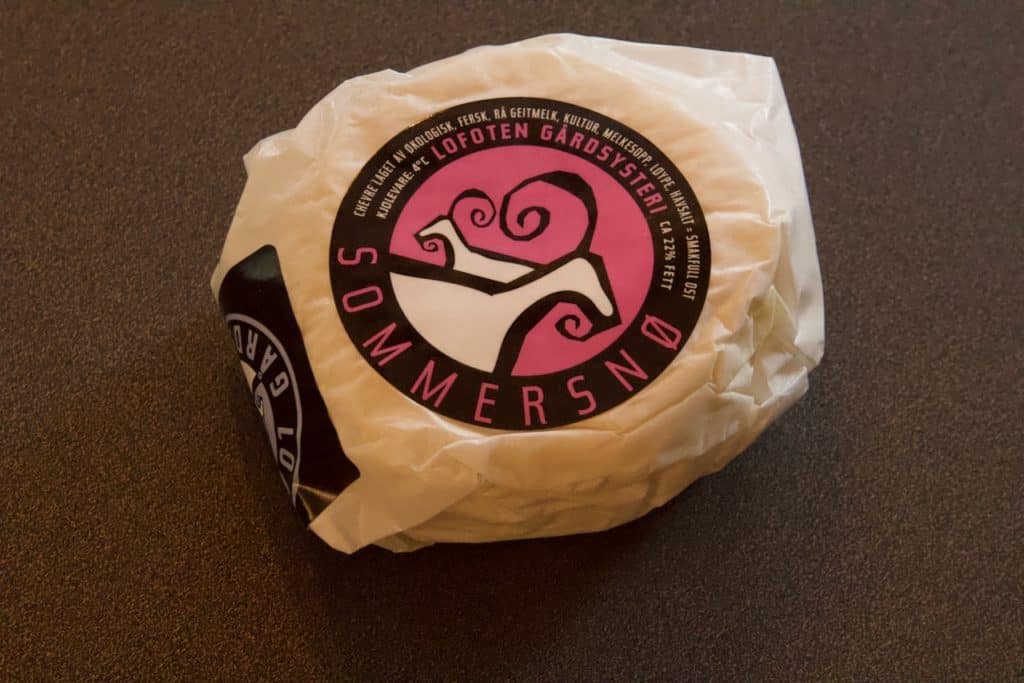 Thousands sort of pilgrimage to the Lofoten Islands up in northern Norway every year for, no – not to taste the chèvre style Sommersnø – but to climb the mountain peaks, go on eagle and whale safaris, do ocean rafting, fishing, or contemplating in breathtaking surroundings and of course enjoy the gastronomic affluence that you are surrounded by wherever you go in the archipelago. Sommersnø is part of the latter. An organic chèvre style raw milk cheese made by a Dutch couple at Lofoten gårdsysteri.
Sommersnø is a young cheese
I do not know exactly when they launched the cheese, but it's only a few years ago. Up till then they made, and still do, firm cheeses, of bought-in cows' milk from near by dairy farms. These are all pasteurised, some even with local seaweed, but Sommersnø is made with milk from their own herd of 150 milking goats and is used raw. The rind is a mix of white mould (P. candidum) and Geotrichum candidum, the latter so typical for the chèvre style cheeses. Paste is bright white, even and creamy once in your mouth. A fine acidity, dairy flavours, and so well integrated salt that you could almost say there isn't any, but there is. It's just a job well done.
Lofoten islands
The Lofoten islands is an archipelago just north of the arctic circle, stretching south west into the Norwegian sea. An eldorado for marine wildlife, home for the famous "le skrei" fisheries every winter. Lots of midnight sun in the summer, northerns lights during winter and a climate not anything near as harsh as you would imagine this far north, thanks to the mild gulf stream bringing warm water all the way from the Gulf of Mexico and across the Atlantic ocean.
The farmer/cheesemakers
Serendipity. How often isn't your direction in life decided by that? That's how Marielle and Hugo and their sons ended up at the Lofoten islands, via a detour to Africa's Burkina Faso and the Philippines respectively. To do some farming only for a summer. That was back in 2000 and that summer seems to last for ever and again.
Bøstad, that's where they are situated and visitors are most welcome.