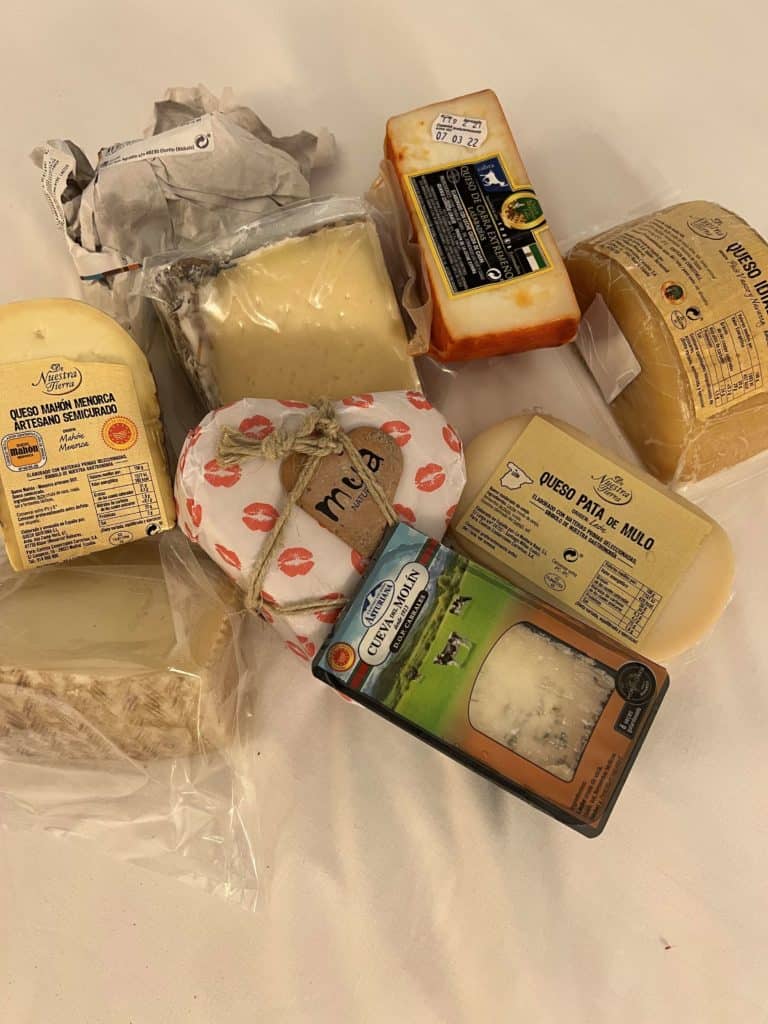 Sitting here in my hotel room just outside Palma de Mallorca while the rest of the family is out evening shopping. On the lawn by the pool there is a not all that talented crooner trying to entertain the dinner guests. From my point of view he's more of a nuisance than being an entertainer. I'll try my best to ignore the man. So going to Mallorca was decided back in March in a belief that by then the pandemic is all gone. Hardly, but we're here. Norway is all open, no face masks, no social distancing. So it was sort of a transition coming here where face masks are mandatory whenever inside public areas. Strange how fast we got used to not wearing them.
All that aside. Cheese in Mallorca. I had high hopes finding local artisan cheese from raw milk of any kind. Spanish cheese is something I need to research more so this trip was part of the journey. From that perspective this was a hit and miss. Not that I did not find cheese, but not from Mallorca. Raw milk cheese that is.
Menorca, not Mallorca
I am well aware of the Mahón coming from one of the other Balearic islands, Menorca. Equipped with a PDO and is often made from raw milk, though not necessarily. Locally it's often called Maó, that's Catalan by the way. Made of cows' milk, may contain both ewe's and goats' milk, but not on a regular basis. Reddish rind due to it being rubbed with paprika. The thing is, if you, such as me, want local cheese made with raw milk, you have to go for Menorcan cheese. All cheese from Mallorca is made of pasteurised milk, so I have learned these few days. That said, I might be wrong.
Lots of Cheese
I have found a lot of cheese, from all over Spain. From Cabrales to Idiazabal to Manchego and others not so well known. Others found I have recently had back home, like cheeses from Extremadura, so no need to purchase now. The Cabrales I want to taste as it looks younger that the variants I have found back home so far. The Manchego I tasted, it's from the core area, tasted wonderful so I just had to buy some. Then there is a couple of Mahón varieties that I have not tasted for a long time. Some old acquaintances and some new. Some I might keep for a little, saving them for a course next month.
Where to shop cheese in Palma de Mallorca?
The thing is as I say above it is much the same, if you don't mind the cheese being pasteurised there is a wider assortment on offer, of course. The most cheese I actually bought from Carrefour at FAN Mallorca Shopping next to the airport. Bus 23 will take you there. Fare is €2, pay to the driver. Mercat de l'Olivar at Plaça de l'Olivar has quite a few cheese stalls, but mind you, the market closes at 2 pm. We were late so they were all winding up for the day. More or less the same cheese all the way round, firm and semi-firm as far as we noticed. Nothing wrong in that, but Spanish cheese is so much more. La Creme Charcuteria, Carrer de Josep Tous i Ferrer, Palma de Mallorca. Rather elusive as we did not know about it, but our daughter cried out: Daddy a cheese shop! And by the way, they have a very good selection of cured ham as well. Pleasant service, got to be mentioned, for us Mallorca did not stand out with an open and friendly service, sorry to say. More like this 😐. Quite the opposite to what I have experienced on mainland Spain.
Any places to eat?
Many, and many good ones, we have not even tried a fraction. Will mention one from the list; OMBU. Tapas, Asian/Mediterranean fusion and lovely local wines. Service? Exceptional. For Paella, try Restaurante La Payesita. Family run, busy, very pleasant service, modestly priced and the most generous Orujo I ever had. In Can Pastilla 8 km ish east of Palma.