The last day of Cheese 2017 in Bra I was lucky enough to participate in a guided tasting of some fine European firm cheeses. The tasing was proficiently led by Hervé Mons. Firm cheese is exciting, even though I know a lot find them boring, at least when that's the sole type of cheese on the plate. But there is a lot of taste, aroma and nuances you normally don't think of, unless you really sit down to taste.
All the cheese on the plate was made during August 2015, so they were 25 months old. A bit of confusion on my part regarding the Parmigiano Reggiano which I think was mentioned to be 48 months old. The rest were definitely 25 months.

The six cheeses
If you look at the picture above and start at 12 noon, the first one is a Beaufort d'Alpage. From Savoy in the eastern France. Normally produced from June through October, this particular one in August. 2017 season has been shortened by a month, though, due to cold weather and early snow in the mountains. Mid September the herd was back down in the valley. Pleasant smell of milk and herbs. Pale yellow paste and compact texture with no holes whatsoever. Mild taste with a hint of sweetness and hazelnuts. Melts in your mouth. This cheese has been matured by Mons.
We had a Franciacorta '61 rosé NV, sparkling wine to go with it. 60% Pino Nero and 40 % Chardonnay. If I am about to drink Italian sparkling wine I'd rather prefer Franciacorta. It paired well with the cheese and cleaned up my palate pretty well as Beaufort has some butterfat. The same sparkling wine was also served along the Swiss Etivaz, provided by Swissmathier who I know pretty well. Etivaz is Beaufort's cousin and comes from the area to the east of Montreux. Fruity aroma and taste. Firm and compact texture, with no holes. Pale yellow paste. The cheese has started to develop crystals. Feels somewhat saltier that Beaufort. This Etivaz is, by the way, made in wooden vats.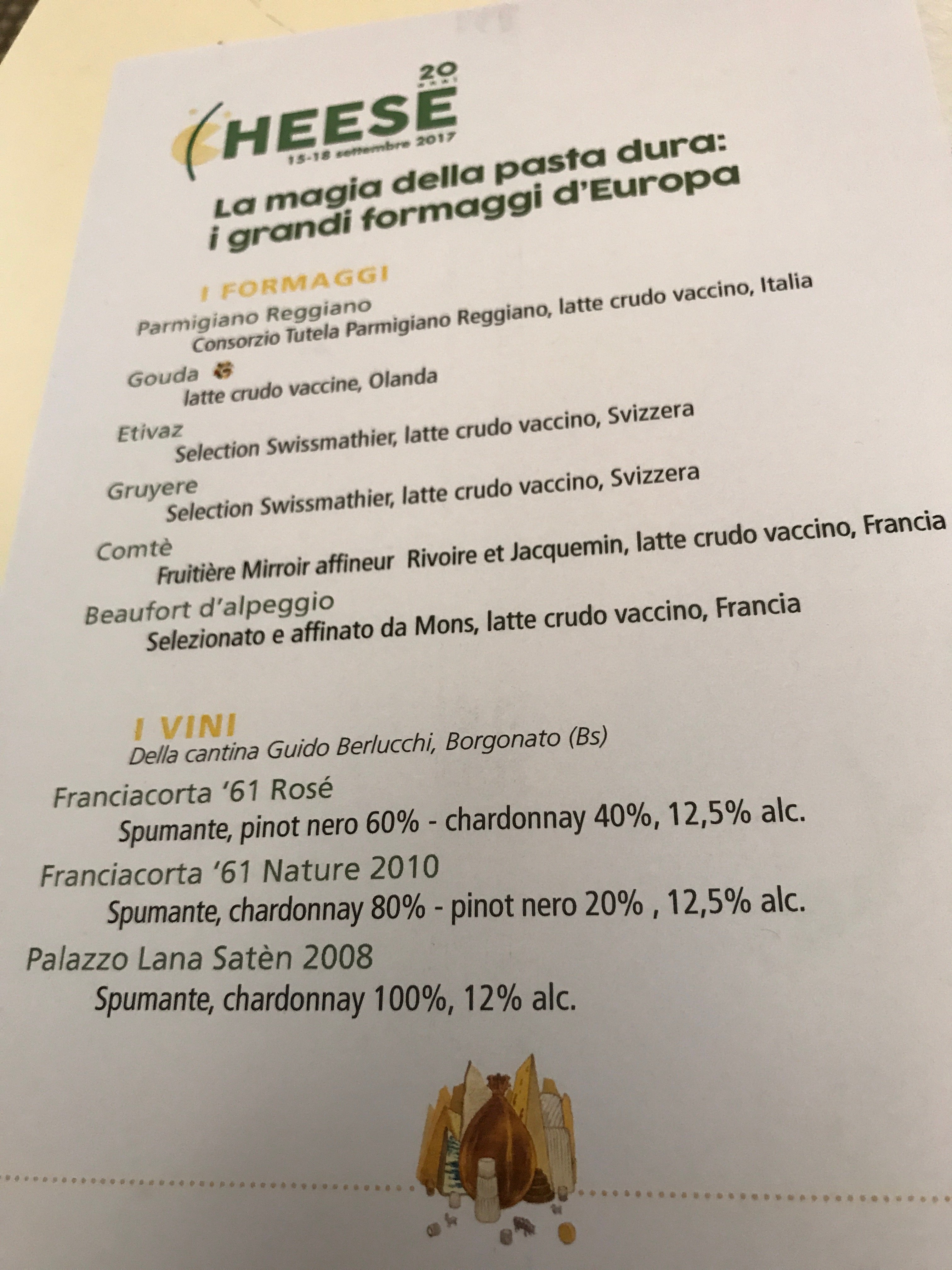 Swiftly back to France for a Comté from the Jura. Have had better Comté I must admit. Firm and compact texture as it should be, color is fine as well, but the taste does not lift me up. From the cooperative Mirroir and matured by Rivoire et Jaquemin. This was paired with Franciacorta '61 Nature 2010. 80 % Chardonnay and 20 % Pinot Nero. A step up in quality for the wine, if not the cheese. I think Hervé Mons realized we should have started with this cheese.
The Comté was followed by a Swiss Gruyère, also from Swissmathier. If you're after prime Swiss cheese, contact Swissmathier. Light yellow color. Texture is compact and firm with no holes. Crystals. Creamy once you have a bite and a wonderful taste of hazelnuts on the palate. Gruyère oftentimes have a discrete smoke aroma because the cheese is made in vats heated over open fire (when the curd is "cooked" with the whey).
Up next is cheese number five, a Parmigiano Reggiano from Consorzio Tutela Parmigiano Reggiano. 48 months, I assume that's what they said. Artisan cheese this as well. A lot of the Parmigiano Reggiano made, is industrial. Does not have to be poor cheese for that reason, they all have to follow the rules. But additives are used by the industrial producers that small artisan producers would never allow. I am not on top of the Italian language, but I think they said there are 39 additives allowed due to clever lobbying from the industrial makers. None of these additives present in the cheese on the plate, though. A little dry for my taste. Not unusual for PR, but I also found the taste somewhat flat, compared to what I have tasted earlier. Not the sweet touch I had expected.
Finally
Dutch Gouda. Boerenkaas, which means it is a farmstead cheese. Unfortunately no information about the producer. Paste is pale yellow, but darker than the other cheeses present. Firm and compact with a few scattered holes and very distinct crystals. Sweet and with a walnut character. Long pleasant taste. Creamy. Best in show. Along these two last cheeses we had a Franciacorta
Palazzo Lana Santèn 2008 made from 100 % Chardonnay. I found the wine paired better with the Gouda than the Parmigiano Reggiano.
Tastings at Cheese 2017
If you plan on going there in two years, I definitely recommend to participate in the guided tastings. Many of them are open to the public and free as long as seats last, others by ticket only, but it is worth it. You should plan well ahead to get a room not too far away.